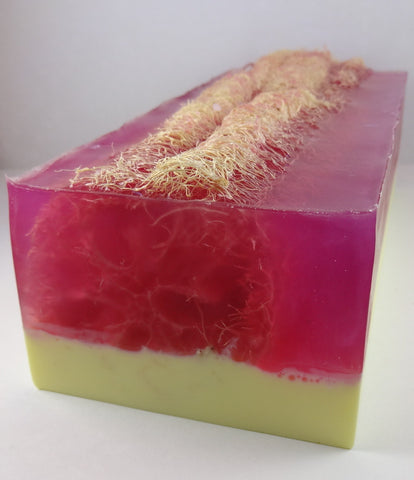 Raspberry Lemonade Loofah Soap Loaf
Soap Loaf - Shea Butter - Raspberry Lemonade 
OPTIONS:
UNCUT
8 BARS (hand cut, bar size may vary)
Everybody loves our Raspberry Lemonade Loaves in all styles so we decided to bring you the loofah soap too!!  Also available in our raspberry lemonade with curls. 
Loofah soaps are awesome! A few tips for use from some of our regular customers

Olive Oil Soaps/Sodium Cocoate, Propylene Glycol , Sodium Stearate, Glycerin, Water, Sorbitol, Aloe Barbadensis Leaf Juice, Olea (Olive) Europaea Fruit Oil, Yellow 5, Green 3, fragrance oil
Loaf size 3.5 x 2.5 x 8 - yields 8 one inch bars or 9-11 thinner bars 
**Please note, natural loofahs come in various sizes. The loofah may not be large like the one seen here so your soap loaf could show loofah in the top or the loofah may all be contained within the soap loaf.  
 (we make no claims that our soaps are anything but simply soap-these tips are actual comments or feedback from customers as to their use of the product)
---
We Also Recommend
---