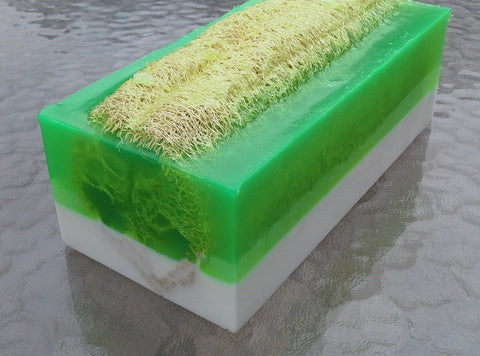 Bergamot Loofah Soap Loaf
Bergamot Loofah Soap Loaf - 2.5 lb
Glycerin, olive oil, shea butter and aloe soap loaf with embedded loofah in a citrus clean burst of bergamot. The soap loaf is green glycerin & aloe with a bottom layer of moisturizing shea butter. The loofah is embedded throughout the full loaf so that each soap bar contains a slice of loofah. 

Loofah soaps are awesome! A few tips for use from some of our regular customers
Exfoliating for tanning
Scrubbing feet and hands
Shampoo bar for scalp (some say it has helped with reducing dandruff)
Some customers have used to scrub legs & arms to reduce cellulite and dimples improving circulation 
Removal of dirt and grime for gardeners or mechanics.
Loofah soaps will not slide off your soap dish or shower shelf like other soaps.
OPTIONS: UNCUT LOAF OR 8 HANDCUT BARS (bar size may vary)
Olive Oil Soaps/Sodium Cocoate, Propylene Glycol , Sodium Stearate, Glycerin, Water, Sorbitol, Aloe Barbadensis Leaf Juice, Olea (Olive) Europaea Fruit Oil, Yellow 5, Green 3, fragrance oil
Please allow 3-7 business days before shipping, soap loaves are made fresh as they are ordered.
**Loofah is abrasive. It will soften up with water but could still be abrasive to sensitive skin. 
**Please note, natural loofahs come in various sizes. The loofah may not be large like the one seen here so your soap loaf could show loofah in the top or the loofah may all be contained within the soap loaf.  
(we make no claims that our soaps are anything but simply soap-these tips are actual comments or feedback from customers as to their use of the product)
---
We Also Recommend
---