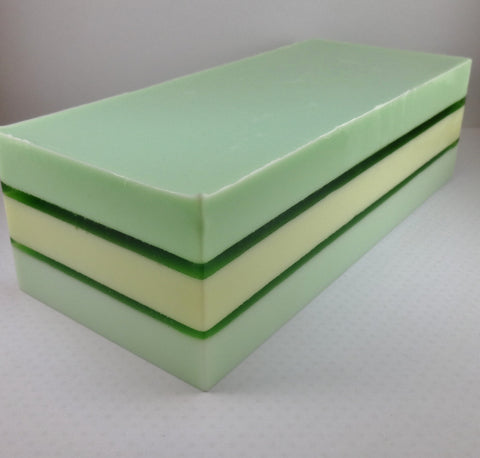 Coconut Lime Verbena Shea Butter Soap Loaf
Soap - Shea Butter Soap - Coconut Lime Verbena 
Refreshing lime with a hint of coconut! 
mango, coconut, lime, sandalwood, jasmine, kumquat
UNCUT LOAF 
8 BARS
PLEASE NOTE - ALL OF MY SOAP LOAVES ARE MADE FRESH AS THEY ARE ORDERED, PLEASE ALLOW 3-7 BUSINESS DAYS FOR PROCESSING BEFORE SHIPPING.
Loaf size 3.5 x 2.5 x 8 - yields 8 one inch bars or 9-11 thinner bars 

Ingredients: Sodium Cocoate, Propylene Glycol , Sodium Stearate, Glycerin, Water, Sorbitol, Butyrospermum Parkii (Shea) Seed Butter, Titanium Dioxide, fragrance oil, liquid oxide for coloring.
---
We Also Recommend
---